Hammerhead is run by Kallistra Ltd with assistance from The Forest Outlaws Wargamers Club, GCN and support from
Miniature Wargames, Wargames Illustrated and Wargames Soldiers and Strategy.
Hammerhead Show Update 15th June 2021

"It is with great frustration that we have little choice but to announce that Hammerhead 2021 can no longer go ahead on the 31th July in response to the government's decision to extend Covid restrictions for another 4 weeks and possibly even longer.

Since Hammerhead 2020, no traders or game presenters have attended a wargame show for what will be 16 months, and therefore need a minimum of 6 weeks to organise transport, accommodation, their trade stand or participation game, manufacture, and order stock etc. For this reason, the decision must be made now and not in 4 weeks' time.

Over the last few weeks, the increasing spread of the Covid Delta variant has piled uncertainty upon more uncertainty for event organisers across the country. Unfortunately, working crystal balls are in very short supply at the moment, so nobody really knows what will happen next. We had a vision of Hammerhead being the last wargame show before the first Covid lock-down and the first show to re-commence after the pandemic – leaving go of this vision is not easy after so much preparation.

A massive thank you to all the traders, game presenters and everyone who has offered so much encouragement and support for Hammerhead. We will organise a full refund for all the traders and give them the first option for trade space at the next Hammerhead scheduled for 5th March 2022 when hopefully 'normality' will have returned to all our lives."
Two Great Spaces Full of Fantastic Games!

Top Manufacturers / Traders and up to 70 Participation Games and Activities
plus the Wargames Illustrated Painting Competition!
| | |
| --- | --- |
| The Cedric Ford Pavilion - Gamers Lounge | The George Stephenson Exhibition Hall |
The Cedric Ford Pavilion - Gamers Lounge - offers a welcoming, warm and comfortable, carpeted environment in which you can play games, shop for wargame goodies from a selection of traders. There is a fully licensed bar and seating area and it has it's own catering facilities, which will be serving a variety of reasonably priced hot and cold food throughout the day - enjoy a meal and may be a drink from the bar and socialise with fellow gamers.
The car parking is plentiful and free and is located between the Gamers Lounge and the George Stephenson Exhibition Hall.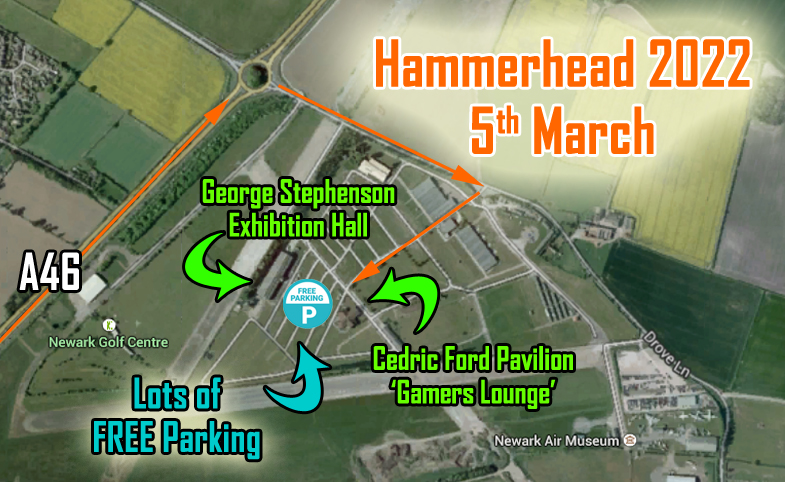 The Newark Showground is only a few minutes from the A1. Click here for directions to Hammerhead.
The George Stephenson Exhibition Hall offers a welcoming environment with plenty of space (3000sq metres), with natural light in which you can play games, shop for wargame goodies from a selection of top traders positioned around the perimeter of the hall. The visitor participation games are all located in the central area of the exhibition hall. It has its own catering facilities, which will be serving a variety of reasonably priced hot and cold food throughout the day.
The Wargames Illustrated Hammerhead Painting Competition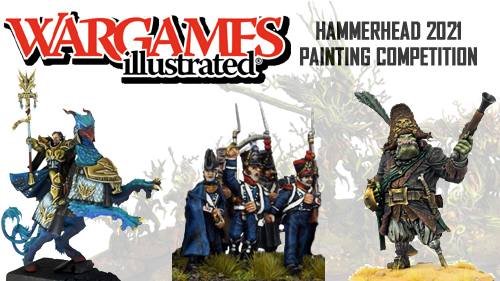 The Wargames Illustrated Painting Competition located in the George Stephenson hall
For more details click here >>
The Hammerhead Experience
Every game at Hammerhead is visitor participation, which means that you are very welcome 'to have a go' at a wide variety of different historical and fantasy based games run by intrepid gaming clubs, historical societies, wargame companies and enthusiastic groups of gamers. You will be able to play a full game or simply move a few miniatures, roll some dice, have a chat with the people running the game and then move onto the next. The show provides a great opportunity to try out new or familiar game systems and spend a day indulging yourself and friends in this absorbing and fascinating hobby. Whether you're interested in Napoleonics, WWI and WWII, Ancients, Medieval, Fantasy or Science Fiction, we are sure that you will find a selection of games you would like to play.
A collection of images from Hammerhead 2020 can been viewed below - and a full show report can be read here.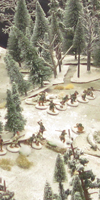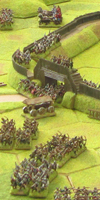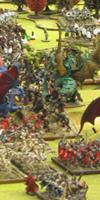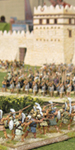 Entry To Hammerhead 2022
The Gamers Lounge and the George Stephenson Exhibition Hall Hammerhead open to the public at 10:00am and close at 4:30pm. The entry wristband gives access to both halls - payment taken at the door.
Entry: £5 per adult, £3 for minors (16 and under), Children under 9 free
The Hammerhead Figure
2020 Hammerhead figures were Julius Caesar and Versingetorix.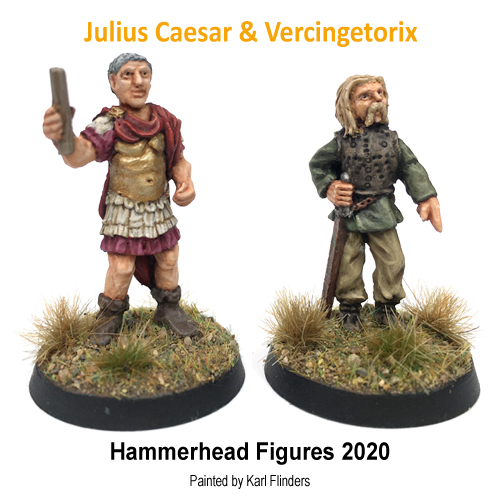 The Emperor Napoleon and the Duke of Wellington plus the WW1 Generals; British, German, French, Austrian and Russian figures from Hammerhead 2014 - 2019, will also be available to purchase on the day.
The Bring & Buy - Tabletop Sale
Hammerhead show will be hosting the popular Tabletop Sales in the George Stephenson Exhibition Hall.
If you are new to this, you basically hire a table for one hour to sell your unwanted wargames items. You can deal directly with the buyers and answer any questions they may have. With no commission, you keep all the profits.
Please note there will be limited tables available, so its on a first come first served basis.
Bookings for the Tabletop Sales slots will be open from 1st February 2022
For more information on the Tabletop Sale click here
Social Media
Check out the Hammerhead Show Facebook page and get all the up-to-date information. If you're on Facebook give us a 'Like', share the posts and spread the word - Hammerhead 2022 is at the Newark Showground on the new date: Saturday 5th March..



Updated 15.06.21