Bookings made for Hammerhead Tabletop sales

will be transferred to the new date of 28th April.

All people that have booked a slot/s have been contacted by email.



Hammerhead show will be hosting the very popular 'Tabletop Sale' once again in the George Stephenson Hall. If you are new to this, you basically hire a table for one hour to sell your unwanted wargames items. You can deal directly with the buyers and answer any questions they may have. With no commission, you keep all the profits!
Please note: there will be limited tables available, it's on a first come first served basis, so book early!
One hour costs £6 for 6ft space (full table), payment taken on the day, prior to your session starting.
Booked a space at Hammerhead's Tabletop Sales?

Please note: The Tabletop Sales slots already booked will be transferred to 28th April. An email update will be sent to confirm your availability to take up your allocated table on the new date.
Although bookings are now closed, we will be taking bookings for any remaining spaces from 28th March.
New rescheduled date of 28th April
Sessions with a red cross indicate that these times are fully booked. The available sessions are: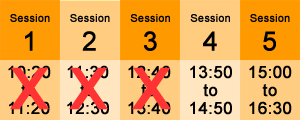 Please note: There is no facility to store goods. However, the car park is directly outside so your sales items can be stored in your vehicle until required. We cannot take responsibility for left items.
Hammerhead 2018 Tabletop Sale Terms

1. There are five sessions which should allow a large number of people to use the Tabletop Sales throughout the day. It is situated in the centre of the hall in the most prominent position available.

2. There are 10 minutes between sessions to enable an unhurried change - over to take place. The sessions will run as follows – 10:20 to 11:20; 11:30 to 12:30; 12:40 to 13:40; 13:50 to 14:50 and 15:00 to 16:30

3. You will be notified with 5 minutes of the session ending. Tables should be cleared at least 5 minutes before the next session starts.

4. Payment will be on the day. £6.00 for 6ft per 1 hour session. Maximum hire is 2 separate 6ft table sessions during the course of the day. Any slots that have not been taken prior to the event will be available to hire on the day, on a first come first served basis. Please visit the Tabletop Sales Information Desk to check if there are any available slots on the day.

5. We will keep any booked table until five minutes after the session starts, if you do not take up your table by then we may re-allocate it. Empty tables may be offered to those either side, however, if you want to use it, expect to be asked to pay for it.

6. All tables are numbered. When you arrive at Hammerhead visit the information desk in the main hall to receive you table number.

8. Tables are not to be used by Traders, if in doubt check with me or the staff at the information desk.
9. By making a booking, it is understood that you agree to abide with the above conditions.
Updated: 02.03.18